Focusing on Biotech & Pharma
Vienna is the hub of the Austrian biotechnology and pharmaceutical industry. 260 companies are active in Vienna, employing more than 15,100 people and generating around 9.5 billion euros in revenue per year. All top 20 global players in the sector operate a presence in Vienna. Many have a sales unit and a clinical research unit in the city that prepares and monitors clinical trials, for example Novartis, Pfizer and Takeda. Besides, Vienna is home to a growing number of innovative start-ups, mainly in medical biotechnology.
Research, development and manufacturing
For 2020, some 140 biotechnology and pharmaceutical companies with a focus on research, development and manufacturing have been recorded in Vienna. Together, these enterprises have generated the bigger part of the sector's revenue (5.6 billion euros) and employed three-fourths of the workforce (11,180 employees). R&D expenditures have totaled to over 790 million euros in 2020 alone, a clear indicator of the sector's commitment to innovation. Several big players are currently upgrading their R&D and manufacturing facilities in Vienna with Boehringer Ingelheim and Octapharma carrying out the largest investments.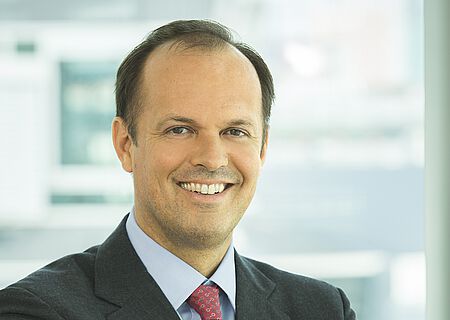 (C) Boehringer Ingelheim / Marion Carniel

Political stability is a major factor when considering major investments in a country. Austria scores very highly in that regard, as it does in terms of infrastructure and standard of living. Without a doubt, however, one of the most important considerations for a research-driven company is research subsidies. This also played a decisive role in the decision to invest 700 million euros in the construction of our new biopharmaceutical production facility in Vienna. We are looking for highly qualified candidates to fill the 500 new positions, created for this project, and attach great importance for that reason to the training and qualifications of potential employees.
Philipp von Lattorff
Managing Director at Boehringer Ingelheim RCV GmbH & Co KG
Dedicated biotech in numbers
The number of 'dedicated biotech' businesses in Vienna that meet the corresponding OECD definition has continued to rise over the years, growing from 43 companies in 2010, to 67 in 2014, and to 91 in 2020. The vast majority of them focus on medical biotechnology: 69 companies have been reported to develop drugs or diagnostics in a wide range of indications with infectious diseases, cancer and diseases of the respiratory system being the main focus. However, biotech companies focusing on industrial applications and research reagents are on the rise in Vienna.
Improved financing situation
The financing situation of the dedicated biotech companies in Vienna has improved in recent years. In 2020, 22 biotechs including Apeiron Biologics, Hookipa Pharma, Marinomed, Themis (now MSD) and Valneva reported receiving 297 million euros from investors. Almost a quarter of the money came from venture capital investors. Stock markets have gained in significance as a source of capital in recent years and two companies raised about 114 million euros of public equity in 2020.
Attractive partners for global players
Viennese biotech companies are highly successful in establishing strategic partnerships worldwide, including licensing agreements and M&A activities. From 2018 to 2020, 53 deals have been communicated in public. For most of them, financial details were not disclosed. Entirely confidential deals are not included in this figure. Partnerships are often linked to platform technologies that allow generating new products and services.
Suppliers, services providers and sales offices
The biotechnology and pharmaceutical sector requires the continuous support of suppliers, service providers and sales offices. In Vienna, about 120 sales, supply and service companies together employed some 3,950 people in 2020 and reported a turnover of 3.9 billion euros. The sales and distribution units alone have recorded more than 2,980 employees and a turnover of 3.6 billion euros.
Additional information and success stories
More details, tables and lists are provided in the Vienna Life Science Report.
Furthermore, we invite you to screen our news section, to register for our electronic newsletter and to follow us on Twitter or LinkedIn in order to stay up to date on success stories. In the downloads section you will find publications by our media partners and the biannually published Highlights folder that is distributed at trade shows and partnering meetings worldwide.
LISAvienna is available if you have any questions