Vienna provides 360° support for life sciences start-ups
Starting a biotech or medical device company in Vienna means benefiting from a 360 degree support landscape nurturing a unique life sciences ecosystem. Various grants, loans and guarantees as well as free consulting services and flexible start-up offices are available in Vienna. The research tax premium of 14% makes Austria even more attractive. We strongly recommend that you consider Vienna when planning to start up or grow your company at the heart of Europe! Our technology experts are available to talk about all the support that is available here for developing tomorrow's products, processes and services. Please contact us to help you find suitable lab space including the most modern start-up labs. We accompany you on your way to success. Enter the ecosystem now!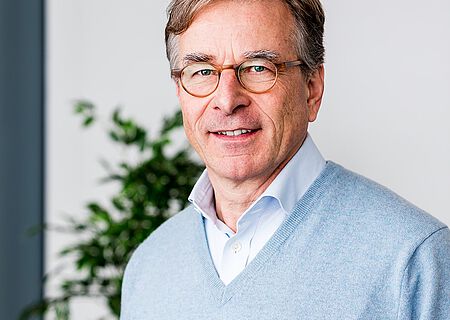 (c) HOOKIPA Pharma

The Viennese biotech arena is an important and competitive hub at the center of Europe's biotech and life science sector. It provides a highly dynamic environment on an international scale which enhances the industry's capacity to innovate. For HOOKIPA it provides fertile ground for advancing and delivering results that demonstrate the potential and uniqueness of our novel technology platform. Moreover, our people just love Vienna as a place to live.
Joern Aldag
CEO, Hookipa Pharma
Vienna Business Agency: Startups Labs at the Vienna BioCenter
Start-ups can to rent affordable and flexible workplaces in more than 1,100m² in the heart of the Vienna BioCenter and jointly use the equipment and facilities provided. This offer is intended primarily for start-ups doing research and development in the fields of biochemistry, biomedicine, biotechnology, genetics, molecular biology and pharmaceutics.
Shared infrastructure and services available such as:
Fully equipped BSL2 laboratories
LN2, -80 °C, -20 °C, 4 °C storage options
Imaging station for blots & gels
Centrifuges, microbial incubators & shakers, scales, etc.
Laboratory glassware (bottles, beakers, flasks, cylinders, etc.)
Reagent-grade distilled water, liquid nitrogen, CO2 supply
Biological and chemical waste management system
Information technology and telecommunications
Additional details and information on how to apply and whom to contact at the Vienna Business Agency are available here.
BI Innovation Prize – Austria
Boehringer Ingelheim supports selected start-ups by paying their lab and office rent in the new space available at the Vienna BioCenter for up to 12 months. Companies interested in this offer are invited to apply after being granted access to the Start-up Labs. Approach Boehringer Inglheim with a non-confidential summary of your business plan (2 pages) or a pitch slide deck (5-10 slides). Start-ups whose applications have been approved will also gain access to Boehringer Ingelheim's extensive biopharmaceutical expertise, if desired.
Did you know that major life science companies ranked by sales run strategic offices in Vienna?
Almost all Top 20 biotech, pharma and medtech companies operate a presence in Vienna. This offers plenty of room for the exchange of knowledge. Some big players even coordinate clinical trials on game-changing new drugs at their premises in Austria. Others such as Boehringer Ingelheim, Octapharma, Ottobock and Takeda make major investment decisions at their Vienna site that result in their increasing R&D and manufacturing facilities.
Become a part of Vienna's rich life sciences community and learn from your peers
Vienna's life sciences community is developing technologies that are leading to promising new drug candidates, medical devices, research reagents or eHealth solutions. Our unique start-up ecosystem, together with experienced entrepreneur networks and negotiation skills, have yielded spectacular equity investments and licensing deals. These are enabling product candidates to progress into clinical development stages or to enter markets worldwide. Network with the entrepreneurs driving these success stories and benefit from their knowledge. Explore the Austrian Life Sciences Directory and our online news section to find out more about the innovative companies available in Vienna. Our newsletter, tweets, our LinkedIn channel and additional publications provide you with news on a regular basis.
LISAvienna is available to discuss your business ideas and requests for support